Hemkund Sahib Yatra | Yatra Package
Hemkund Sahib Yatra | Hemkund Sahib Tour Package 8 Night / 9 Days
With the verdant beauty of the snowcapped mountains in the backdrop, the green meadows and the white clouds blend to make dreamlike Valley of Flowers trek. Perched at an altitude of 14,400 ft, this trek was a sudden discovery by British traveller Frank Smith in 1931. Step into the bed of flowers while you head out for this one of a kind beautiful trek. You will start this trek from Govindghat via Joshimath which will lead you to Hemkund Sahib on day forth. The trek is considered as an easy to moderate trek and is a favourite among the beginners as well as avid trekkers. Feast your eyes with the thousands of flowers in full bloom.
About the Destination: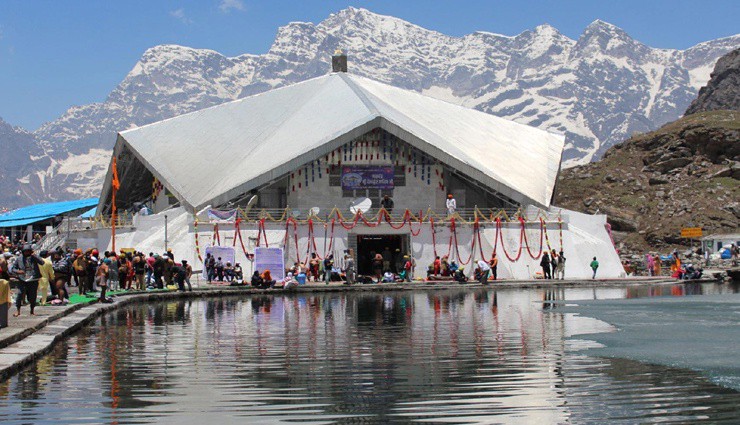 Hemkund Saheb is is sikh pilgrimage place with a Gurudwara and a lake. Hemkund Sahib India travel guide with recent information of Hemkund Tourism, hemkund sahib yatra, hemkund sahib tour package, hemkund sahib tour, hemkund sahib trek, hemkund sahib trekking, hemkund sahib tour packages, hemkund sahib yatra packages.
Set amidst towering snow-capped mountains and lying beside a lake of pristine blue water, the Sikh shrine of Sri Hemkund Sahib looks, even to the not-particularly-pious, a place of almost unbelievable beauty and peace. Seven peaks - known as the Sapt Sring- surround the shrine, looming over lush green pastures. The lake's rocky shores are covered with snow through most of the year, but when the snows melt, the almost mythical yellow-green flower known as the Brahma Kamal, the `Lotus of the Gods', blooms amidst the rocks. It's a place of a rather wild and untamed beauty- and one of Sikhism's most important shrines.
Tour Itinerary
Day 1: Arrival Haridwar
Transfer to your Hotel in Haridwar. Visit Har-ki-Pauri for Ganga Aarti in evening. Back to your hotel, Dinner and Night halt.
Day 2: Haridwar - Joshimath (276kms / 8hr)
Morning, drive straight to Joshimath enroute visit Deoprayag, Rudraprayag and Karnprayag. On Arr. Joshimath, Check in Hotel. Overnight stay.
Day 3: Joshimath - Govind Ghat (22kms drive) by heliceptor - Ghangaria (13kms / 4hr Trek)
Early morning, trek start from here to Hemkund Sahib. Return back to Ghangaria after Darshan. Overnight stay.
Day 4: Ghangaria - Hemkund Sahib - Ghangaria (5.5kms / 5hr each side)
Gangaria to Sri Hemkund Sahibji and back.
Gurudwara Hemkund Shaib : This imposing star-shaped structure of stone and concrete masonry is one the shores of the lake. An outlet behind the Gurudwara is source of the Lakshman Ganga.
Day 5: Ghangaria - Valley of Flower - Ghangaria (3kms / 3hr each side)
Valley of Flower was discovered by Frank Smith while on the Expedition to Mt. Kamet. This picturesque Valley covered by rare species of flowers and a wide variety of Butterflies, Musk Deer, Thar and serow are found here. Back to Ghangaria.
Day 6: Gangaria -Govind ghat (by heliceptor)- Sri Badrinathji
Later drive to Badrinath, Check in Hotel. Visit Badrinath Temple for evening Aarti. Night halt at Badrinath.
Day 7: Sri Badrinathji - Rudraprayag
Sri Badrinathji to Rudraprayag. Halt at Monal Resort.
Day 8: Rudraprayag - Rishikesh - Haridwar (160kms / 5hr)
Early morning, Drive to Rishikesh. Visit Rishikesh Local Sight Seeing and Temples. Later drive to Hardwar. Check in Hotel. Overnight stay.
Day 9: Hardwar - Delhi (230kms / 6hr
Trip ends here
Morning, visit Hardwar Local Sight Seeing and Temples. Later drive back to Delhi. On Arr. Delhi, transfer to Railway Station / Airport.