Char Dham Package Ex Delhi
Exclusive Best Char Dham Package Uttarakhand Ex Delhi Only On #ToursClubIndia.
Char Dham Package Ex Delhi | 11 Night/12 Days
About Char Dham Package Destination & Nearest Place to Visit
Char Dham Yatra is a religious circuit in Uttarakhand that includes the four shrines where Gods and Goddesses reside. These shrines – Yamunotri, Gangotri, Kedarnath, and Badrinath, collectively form the Chhota Char Dham Yatra in Uttarakhand. It is believed that whosoever visits all the four shrines in his or her lifetime will be granted Moksha (salvation) in this life. This is why it holds huge importance for Hindus. Char Dham Yatra is not just a pilgrimage but also a gateway to spiritual bliss.
You feel closer t not only God but to nature as well. These shrines are located in the most beautiful surroundings of the snow-clad mountains and abundance of flora. Before you surrender your soul to God, you will surrender your senses to the astounding sceneries these shrines are located in.
Places To Visit In Char Dham Package
1. Yamunotri Temple
Yamunotri is a holy shrine dedicated to Goddess Yamuna, the source of River Yamuna. The temple is nestled in the mountains of the western region in Uttarakhand. Apart from the shrine, there are also two hot springs where trekkers and devotees take a dip to relieve fatigue. One is Surya Kund and the other one is named Gauri Kund. The only way to reach this temple is on foot. Trek from Hanuman ki Chhati or Janki Chhati. Horses and palanquins are also available.
2. Gangotri Temple
Wait till you see the evening aarti at Gangotri Temple because there isn't anything like it. Situated by the banks of Bhagirathi River, Gangotri Temple is where Lordess Ganga is worshipped. Just 18 km from the temple is the source of River Ganges – Gaumukh. The small town of Gangotri is centered around the temple. Surrounded by snow-clad mountains and river flowing by, the scenery of the temple is truly bewitching. Gangotri Yatra is not as difficult as Kedarnath Yatra and can be easily reached since the town is set around the temple itself.
3. Kedarnath Temple
Nestled in the mountains of Garhwal, Kedarnath Temple is dedicated to Lord Shiva by the banks of Mandakini. Both the location and architecture of the temple are breathtaking. It is so fascinating to know how the structure of this centuries-old temple remains unaffected from the floods. The last road head is Gaurikund. From this point onwards, you will either have to take a pony (or a palanquin) or also trek 14 km long if you have the stamina. People embark on Kedarnath Yatra every season to seek blessings of Lord Shiva before it is closed down in the winters.
4. Badrinath Temple
Badrinath Temple or Badrinarayan is located in the town of Badrinath in the Chamoli district of Uttarakhand. The temple was founded by Adi Shankaracharya in the 9th century who found a Saligram idol of Lord Badri immersed in the waters of Alaknanda and later enshrined it in the cave of Tapt Kund.
The temple is characterized by a colorful facade and houses the idol of Lord Vishnu in black. Badrinath temple is easily accessible by road. However, you can also do a small 3 km trek from the village Mana, which is the last village on Indo-Tibet border.
Gallery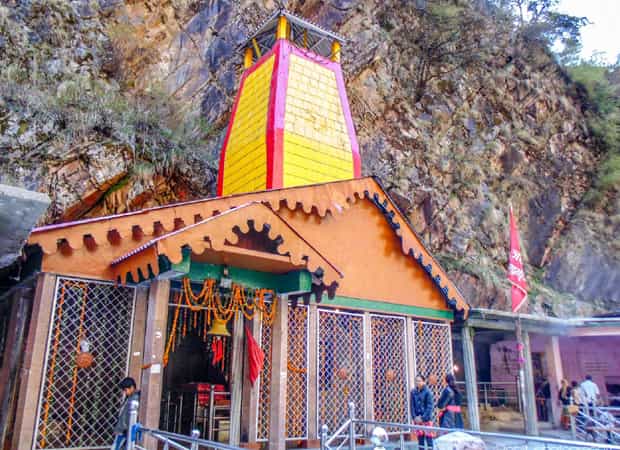 Itinerary
Duration:

12 days & 11 nights

India: (1)

Uttarakhand

Tour Type:

Daily

Ages:

0- 65+

Starting Point:

Delhi

Ending Point:

Delhi
Introduction
Chardham - the most important Hindu religious path in the Himalayas, which is found in the Garhwal region of Uttarakhand state, in the past which was part of Uttarakhand. The path passes through four Hindu pilgrimage destination - Yamunotri, Gangotri, Kedarnath and Badrinath.
What's included
Accommodation

Breakfast + Dinner

Pick-up & Drop

Sightseeing

What's Excluded

Flights

Insurance

Entry Fees/ Departure Taxes
Information & FAQ
Useful things to know before you go
How do I plan an optimal trip from Delhi to Chopta?
Here are the best ways to reach Chopta from Delhi: By Bus, By Air, By Train.
Can I go for the Chopta Chandrashila trek without a guide?
Yes, you can go without guide from Chopta road head to Chandrashila top via Tungnath. The trail to Chandrashila goes through the trail adjacent to the temple, however trail is not much visible and you need to be watchfull to be on the right trail. There is also a trek route from Deoriatal to Chandrashila via Chopta, for which I would recommend to take guide.
FAQ
Chopta is an extemely scenic place. With lush green mountains for miles to see and fresh, crisp air, you wouldn't want to miss out on this place. It's quite close to places like Auli, which is popularly known as the 'Switzerland Of India' and Tungnath, a heavenly abode.
The entire region is extremely popular with tourists so you can expect a fair amount of hustle bustle. It's also a hotspot for a lot of touristy activities like Zorbing, Skiing, Zip lining, etc. And if you're feeling a little extra adventurous, there's also off road driving for the brave hearted and thrill seeking.
Chopta is an absolute destination and a hill station which can be visited round the year. If you wish to visit the sacred Tungnath Temple then visit from April to November, otherwise you find the temple closed. Best time to to travel to Chopta is in Summers (April – June) and Winters (Oct – Dec). Travellers interested in snow fall or want to experience snow trekking in Chopta then Jan to March are the best months.
Chopta in Summers: The weather of Chopta remains salubrious and pleasing during summers. The Himalayas are distinctly visible and the cool breeze adds charm to the vacation. Carry light woollens with you. During Summers, the temperature ranges between 10°C and 24°C in Chopta.
its totally depend on traveller both destination in uttrakhand and both on hill. in greenry, mountains views , food both are same but chopta have benefit of tungnath (highest shiva temple) and chandrasila 360 view trekking with low budget camping.if u are planing to go between December to march travel must to auli even in auli u can enjoy 04 km cable car and skiing.