Places To Visit in Chopta Uttarakhand On Your Next Trip
Best Place to visit Chopta Uttarakhand & adventure activity.
Chopta Uttarakhand | Best Places to see nearby
Overview Chopta Uttarakhand
Chopta is one of those beautiful places in Uttrakhand which must not be missed by adventure and nature lovers as well as Hindu devotees. At an altitude of 2900 m, Chopta is situated in the Rudraprayag district of Uttarakhand , which is a lush green valley showcasing an exciting view of the Himalayan Peaks. The place is known for its stunning meadow, where camping is no less than a dream. However, what makes Chopta quite a popular travel place in Uttarakhand is the fact that it is the base point of the famous and sacred temple of Tungnath, which by the way is the highest Shiva Temple in India.
Chopta is also the part of Kedarnath Wildlife Sanctuary and offers trekkers an excellent opportunity of scaling to a height of 4000 m, where is situated, the Chandrashila Peak that renders a 360° view of the snow-clad Himalayan Peaks like Nanda Devi, Chaukhamba, and Trishul. Along with the enthralling trek, Chopta is ideal for camping under the starry sky. Pitch your own tent or rent one for few nights, and avail yourself one of the finest camping experience in Uttarakhand. Aah! In a scenic place, waking up in the morning and viewing the red sun coming out of the mountains from your tent, is definitely something you should experience.
Our Chopta travel guide is overflowing with information on best places to visit and amazing things to do, which makes it quite essential for the travellers looking for an impeccable travelling experience. Also, handcrafted for you are the varied holiday packages by Tour My India that ensure a vacation unlike any other.
Places To Visit In Chopta
1.Tungnath Temple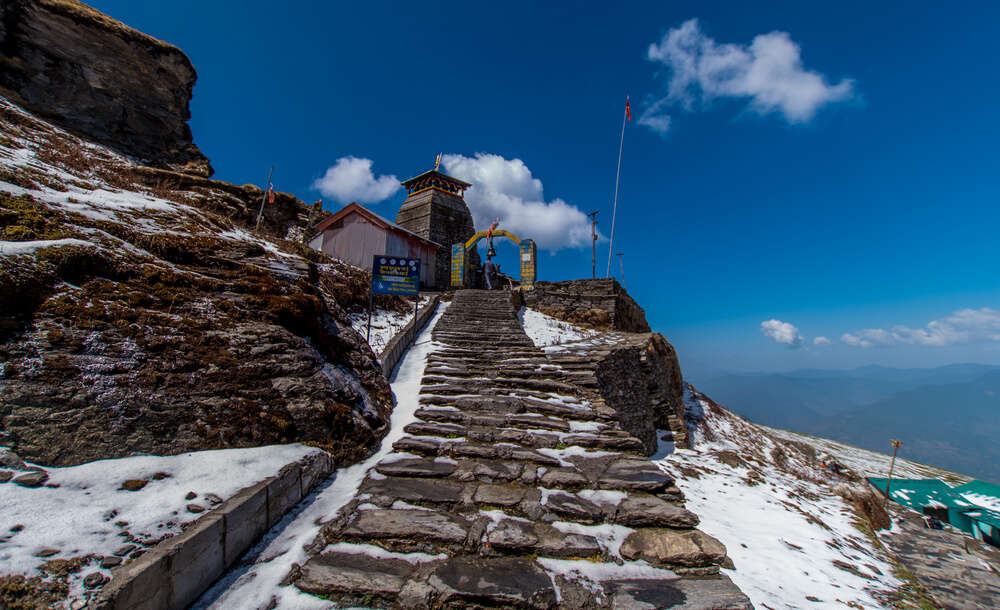 The highest Kedar amongst the five, Tungnath is a magnificent temple with an aura soothes both eyes and soul. Situated at an elevation of 3680 m and on the Chandranath mountain, Tungnath is an important Hindu pilgrimage site that is dedicated to Lord Shiva and is where his hands are worshipped.
The shrine is believed to be more than 1000 years old and is reckoned to have been discovered by Adi Shankaracharya. This holy temple is situated in the Rudraprayag District of Garhwal Region of Uttarakhand and is at a distance of about 4 km from the gorgeous meadow of Chopta.
2.Deoria Tal – A Quaint Spot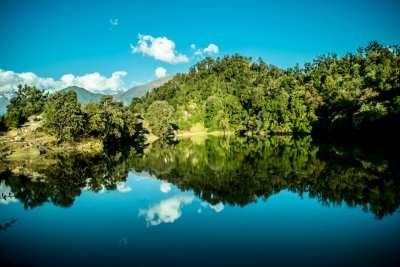 This heavenly lake is located at a distance of 3 km from Sari village. Expect tranquillity and peace here and also a panoramic view of the Himalayan peaks. Do go on a village exploration trip alone or with your group to understand and see the lives of the people of the mountains. It will enhance your experience of Chopta tourist places.Capturing the daily life of the village folk in your camera is something you must do! Mythological stories say that this place is the spot where the Pandavas were asked questions by Yaksha. Devariya Tal is situated at an astounding altitude of 2300 metre above sea level, which is definitely one of the best places to visit in Chopta.
3. Chandrashila – Snow-Covered Hills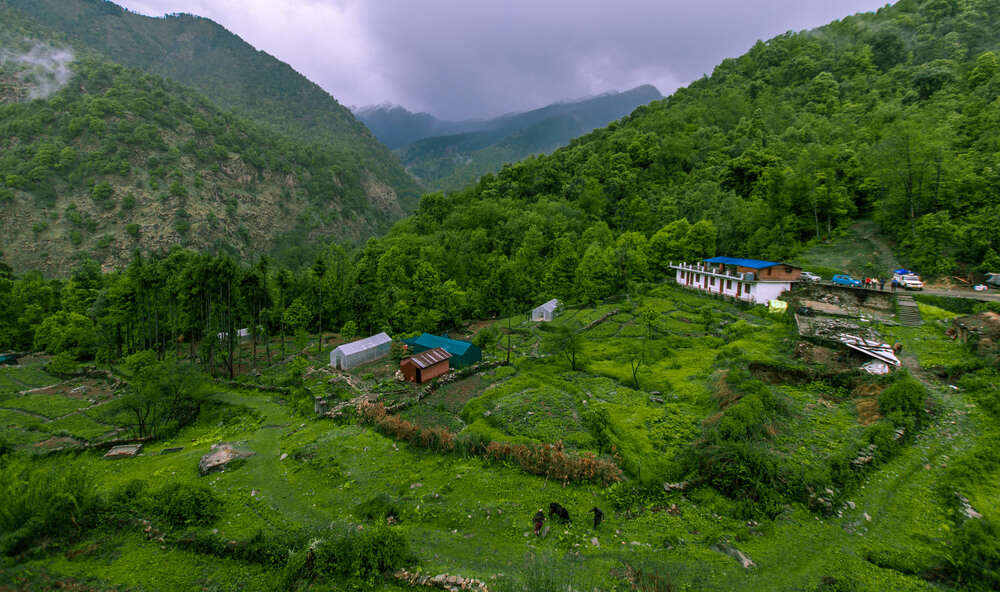 This is the summit of the mountain where Tungnath Mandir and Chopta is situated. Chandrashila is perched at an altitude of 4000 meters above sea level. It is one of the best places for Chopta sightseeing. You can have a 360-degree view of the Himalayan peaks from here, including Kedar, Nandadevi, Chaukhamba and Trishul peaks from Chandrashila.
According to legend, Chandrashila is the place where Lord Ram meditated after defeating Ravana. Chopta has a lot of myths related to the Ramayan. Chandrashila literally means "Moon Rock". You can also visit the temple which is dedicated to the goddess Ganga atop Chadrashila. The views offered by Chandrashila trek are mesmerizing which is why people visit this place time and again.
trek, enjoy the view of the Himalayas, visit the temple
Location: Uttarakhand, India
4.Ukhimath – Praise The God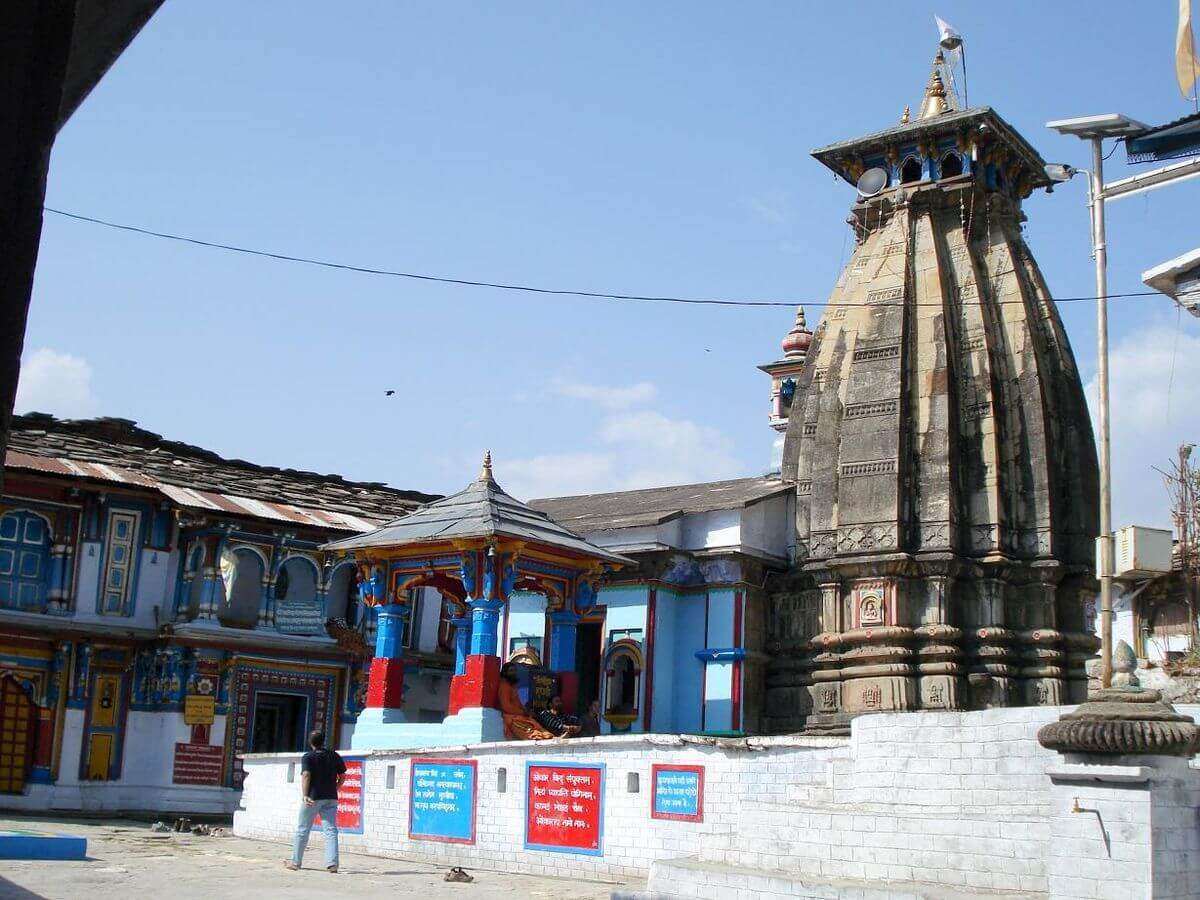 Known as winter Kedarnath, it houses Lord Shiva when Kedarnath shuts down during winters. You can view the entire Himalayas from here too. A lot of devotees come here to visit this holy temple. Ukhimath is situated at an altitude of 1300 meters. It attracts a lot of travellers all through the year due to the scenic beauty of the place. You can find solidarity here in the midst of spirituality.
Things To Do: Trekking, visiting the Ukhimath temple, enjoying the view of the Himalayas
Location: Uttarakhand, India